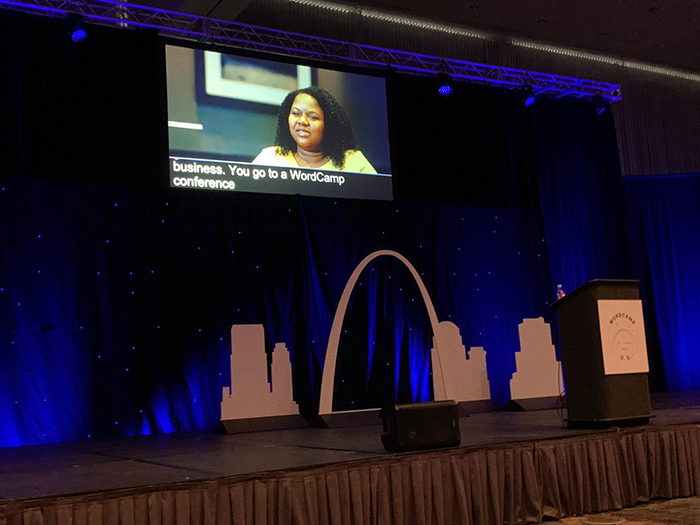 WordCamp US 2019 is a wrap, and the Open film team had an amazing time in St. Louis, Missouri. We were delighted that Open | The Community Code was premiered during State of the Word, the keynote presented by Matt Mullenweg every year at WordCamp US.
An audience of approximately 1500 people at Wordcamp US were the first to see our documentary short celebrating the WordPress community. This included many more livestream watch parties. Additionally, our executive producers Mark Maunder and Kathy Zant and the entire Wordfence team received a mention in State of the Word for their contribution to Open.
We were humbled by the overwhelming response from the community. We created this film as a gift to the people within this community who give so much and make the WordPress community what it is. For our intended audience to receive the film so warmly exceeded our expectations.
The Open Premiere Party
Of course, no film can premiere without an epic party. We rented the only 4 black limousines in all of St. Louis and our friends arrived in style to be greeted on the red carpet by a photographer.
The professional paparazzi caught some great moments on the red carpet with the stars of the WordPress community.
Local Interest
The movie premiere had lights, a red carpet, and a line of limos waiting to drop off our VIPs, drawing much attention to locals passing by. A group of teenagers stopped and asked what our event was about. We said, "It's a movie premiere!" They asked which movie. Pointing to the sign over the door, we said, "Open, The Community Code."
"Oh, wow. Who is in it?" one of the girls asked.
Jokingly, we said, "Keanu Reeves," and walked back inside as the young ladies drove off in shock that Keanu would be in St. Louis for a movie premiere.
Inside the Premiere
We had some fun music curated by Tim Cantrell, extraordinary food at Brennan's, games, and fun conversations as we prepared to watch Open | The Community Code.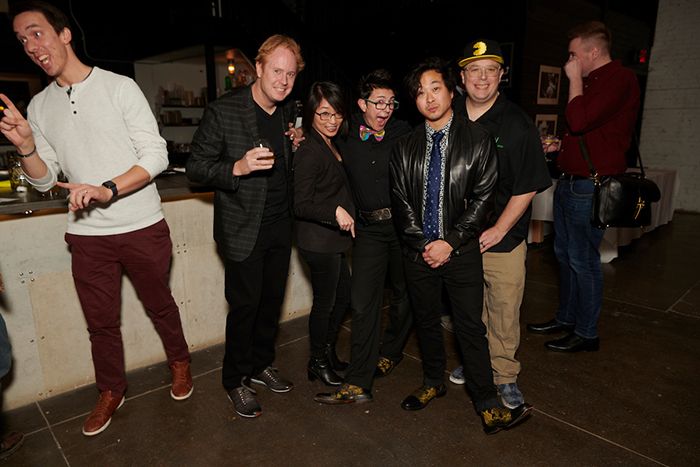 Watching the film again was just as emotional for some of our attendees.
How and Why We Produced Open
On November 3, 2018, our film crew arrived at WordCamp Portland with a mission. We wanted to capture the stories of what brings people to WordPress and WordCamps. After meeting so many amazing people, we had begun to hear a few common themes. We also filmed interviews at WordCamp Seattle the very next weekend, and a month later at WordCamp US 2018 in Nashville.
We then realized that we needed to capture more than just interviews. At WordCamp Phoenix, we captured the community sharing knowledge, connecting, and celebrating.
The real work began, and after months of exploring the story from 37 different interviews, the story and our heroes emerged. Our director, Sean Korbitz, basically locked himself in a room for two days and pieced together the film we now know as Open.
What's Next for Open
We've had a few conversations with WordCamp organizers, WordPress meetup organizers and others who would like to share Open with their audiences. So some local screenings are already in the planning stages. If you're a meetup or WordCamp organizer and would like to show Open, you can do so. Please let us know so that we can help promote your screening and your event! Open is released under Creative Commons (CC) license. For technical support, please reach out. We're happy to help with any technical issues or logistics.
We have submitted the film to South by Southwest (SXSW), a conference and film festival taking place in Austin, Texas in March 2020. Stay tuned! Should we be selected for SXSW, we'll have an event to celebrate in Austin!
The project files are available. If you decide to take the project files and remix them into your own film, let us know so we can celebrate your film with you!
We'll continue to share photos of the premiere on our social media accounts, including Twitter, Instagram and Facebook over the coming days. Follow us to see more pictures in the coming weeks!
We've already started planning a sequel to Open. If you'd like to follow along and learn more about the sequel as it is developed, join our mailing list by hitting the subscribe button above, or by following on social media. There are still so many more stories to tell.
We'll post more pictures from the premiere soon! Thank you to everyone who attended our premiere!