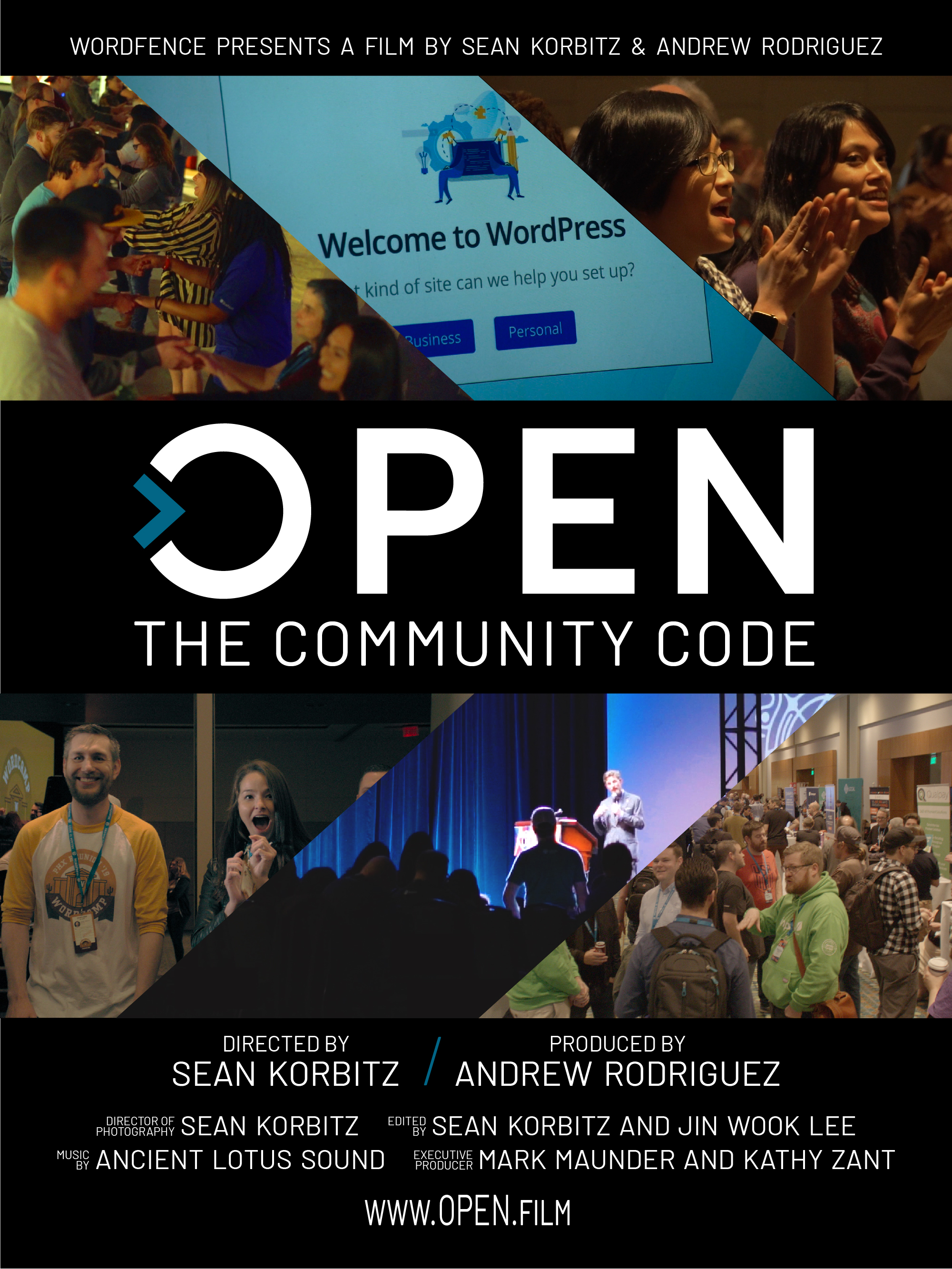 Open, The Community Code, premiered on November 2, 2019 during State of the Word at WordCamp US 2019 with a premiere party immediately following.
Enthusiastic applause in the room for the documentary. What an amazing profile of (and tribute to) the people who give their time and creativity to the WordPress community every day. #wcus #sotw pic.twitter.com/GeLiYLTtcd

— WordCamp US (@WordCampUS) November 2, 2019
We had a number of people surprised when seeing Open at State of the Word, as they had expected the world premiere to occur at the premiere party.
Let us explain.
Yes, we knew that the film was premiering as part of State of the Word. We wanted it to be a surprise, and apparently it was. Many people participated in the creation of the film, including Andrea Middleton who is a community leader involved with, well, everything at WordCamp US. We were thrilled when Andrea reached out with this idea of sharing the premiere with the entire WordPress community tuned into State of the Word. We coordinated with the ever-delightful Angela Jin, and we are immensely grateful for her help in sharing Open with the widest audience possible.
To us, this was our mission. Everyone on the filmmaking team was excited and honored.
You see, we're not precious about the film. We made this documentary short as a way to show the world what WordPress is all about. Everyone who contributes their time, expertise, and passion to WordPress makes this project special. And we wanted those stories to reach the largest audience possible. To us, this was a gift.
We turned our film premiere into a special party at which we could celebrate the community. We showed the film again to a much smaller crowd and had a great time connecting with friends in the community.
At @opendotfilm party – thank you @mmaunder and the whole @wordfence team 🤗 #WCUS #community #WordPress pic.twitter.com/o7W5uYdB55

— Birgit – tomorrow #WCUS contributor day (@bph) November 3, 2019
Creating this film was quite a project. At four different WordCamps, we connected with and interviewed 37 different people. It took quite some time to weave them into what Open is. And not everyone's story could make it into the final film, unfortunately, as we only had so much time. We are immensely grateful to all of you who shared your stories with us.
What's Next?
We're already in initial planning stages for the sequel to Open. We will keep you posted on the sequel, as well as whatever may happen with the film festivals at which we've submit.
Thank you to everyone who contributed to Open. We hope we honored your contribution.
Full credits
Executive Producers
Mark Maunder
Kathy Zant
Directed by
Sean Korbitz
Andrew Rodriguez
Producer
Andrew Rodriguez
Filming
Sean Korbitz
Andrew Rodriguez
Editing
Jin Wook Lee
Sean Korbitz
Colorist
Mark Maunder
Production Advisors
Dan Moen
Alex Ferrari
Legal
Kerry Boyte
On Screen Graphics
Andrew Rodriguez
Matt Pollard
Original Music Score by
Ancient Lotus Sound
Liat Arochas
Rob Treaphort
Promotional Design
Mode Effect
Intern
Amelia Phillips
Special Thank You to Open's Talent
Kronda Adair
Chris Badgett
Jennifer Bourn
Aaron Campbell
Akshat Chovdiarlru
Kathy Drewien
Bob Dunn
Jeremy Fremont
Anil Gupta
Sheila Hoffman
Alena Holligan
Dagnie Johnson
Nick Keenan
Doug Knoyle
Reimar Kosack
Raquel Landefeld
Chris Lee
Thomas Levy
Francesca Marano
Kyle Mauer
Andrea Middleton
Jocelyn Mozak
Matt Mullenweg
Robert Nissenbaum
Carole Olinger
Birgit Pauli-Haack
Rian Rietveld
Brian Rotsztein
Dave Ryan
Alain Schlesser
Michelle Schulp
Devin Sears
Adam Silver
Carol Stambaugh
Machielle Thomas
Chris Wales
Adam Warner
Bridget Willard
Charles "Pippin" Williamson
The Team at Wordfence
The Entire WordPress Community
Thank you to the organizers of WordCamps where we filmed on location
WordCamp Portland
WordCamp Seattle
WordCamp US in Nashville
WordCamp Phoenix