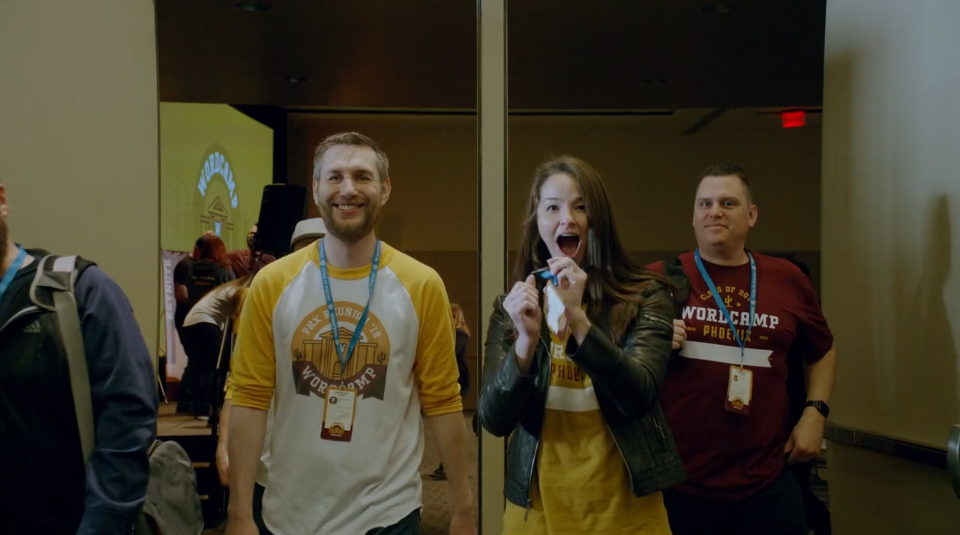 In the fall of 2018, we had a crazy idea.
Can we create a documentary movie about the open-source community that powers WordPress? Thousands of volunteers make WordPress, while a $10 billion industry powering one-third of the web profits.
We started talking to documentary filmmakers Sean Korbitz and Andrew Rodriguez. They loved the idea, too. We set out for the final WordCamps of the year and started asking questions.
Of paramount importance, we wanted to hear individual stories. What drives so many to give so much of their time and energy? What do they get out of it?
OPEN was filmed at WordCamps, local events around the world organized by volunteers to further the mission of democratizing publishing. With over 150 WordCamps and 600 meetups worldwide, this grassroots community brings together more than just programmers and bloggers. WordCamps can attract hundreds of local WordPress users, each with their own story of how and why they use WordPress.
OPEN is a story about community giving freely of their time, expertise and energy to software driving the online economy.
Who is in Open?
If you're a part of the WordPress community, you may see faces of your friends in Open. If you were interviewed, you may be in the film. And if you're just curious, you'll learn something new from the people who made Open possible.
Open has been entered in a number of film festivals across North America. You may see some announcements soon.
When Can You See Open?
So many people are asking to see the film, and we know you're excited, too.
We're releasing the film during WordCamp US on November 2, 2019. The film release will happen worldwide, right here on this site. And if you're at WordCamp US, we invite you to watch the film with us at an event to be announced soon. You'll get to meet the filmmakers and talk about how the film came together the way it did, and you'll learn more about what's next for the documentary about this vibrant community.
If you'd like to get notified of news about Open as we get closer to the premiere, you can subscribe via the link above.